Supporting Manatees & Their Habitats
Manatee Coffee is a family-owned coffee company on a mission to provide high-grade coffee, while also aiding in the improvement of manatee protection efforts. Learn More
Handcrafted Coffee
Arabica Beans
Manatee Coffee takes pride in sourcing 100% pure Arabica coffee beans from across the globe. After roasting and brewing, they produce a well balanced, smooth taste with rich body of complex flavors.
About Our Coffee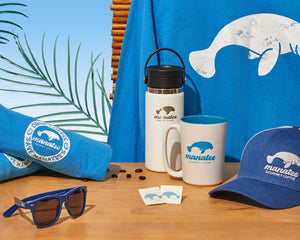 Manatee Merch
Wear Your Heart on Your Sleeve
Support manatees and their habitats with wearables and drinkware.
Shop Wearables
Shop Drinkware
Compassionate Cause
Support Manatees
Manatees are Florida's official state marine mammal. They are listed as threatened at the federal level by the U.S. Fish & Wildlife Service and at the state level by the Florida Fish & Wildlife Conservation Commission.
About Our Cause